Microsoft Outlook for Mac 2011

E-mail, calendars, and contacts working together.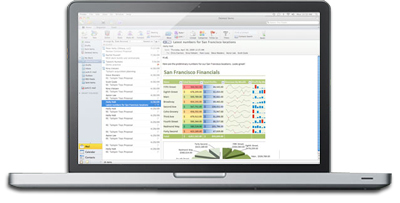 Microsoft Office
Microsoft Outlook for Mac 2011

Overview:
E-mail, calendars, and contacts working together
Microsoft Outlook, the leading e-mail system on the market, enables you to consolidate your PC-based e-mail and tasks into your Mac inbox, unifying your work and home messages, contacts, calendars, and more.
Conversations
Clean up your inbox.
Condense long e-mail threads under a single subject, freeing up your inbox space.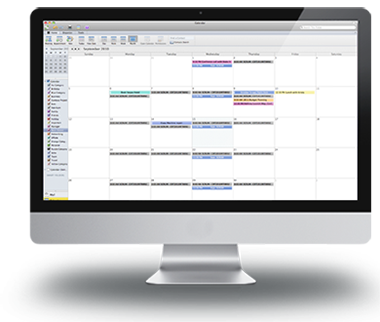 Calenar View in E-mail
View your calendar right in your e-mail.
See your schedule displayed right in the meeting invitation. Users can also have more than one calendar, open others' calendars, and overlay calendars.
.PST Import
Bring your crowd with you.
Now you can migrate to Outlook for Mac from Windows. Just bring your .PST and use the simple import tool. It's that easy.
Unified Inbox
All your messages, all together.
Consolidate all your e-mail, from work and home, into a single folder. Streamline all your messages into one place, use one address book instead of many, and never lose track of where or how you're working.
My Day
Stay focused
Manage your schedule and contacts within Outlook. See easy at-a-glance views of your calendar no matter where you access it—from the desktop or on mobile devices.
OS X Integration
Streamline your experience.
Outlook for Mac 2011 integrates easily with whatever operating system you are using, including Mac OS X or Windows 7. Regular and complicated workflows are much more lightweight. Preview attachments or back up your data using Time Machine. And common experiences are consistent across Outlook for Mac, Outlook Web Access, and Windows Outlook.