Microsoft Word

Polished documents, anytime, anywhere, on all of your devices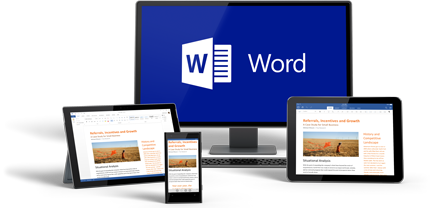 Word when and where you need it
Install Word with Office on your PC or Mac, on tablets and smartphones for when you're on the go, and use Word on the web with Office Online for everywhere in between.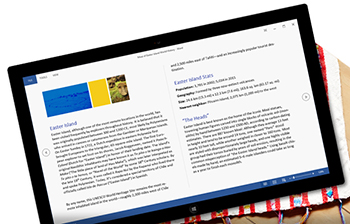 Enjoy the Read
New Read Mode
Text reflows automatically in columns for easier on-screen reading. Less menus mean higher focus on your content, accompanied only by tools that add value to your reading.
Object Zoom
In Read mode, you can easily zoom in on tables, charts, and images, and have them fill the screen. After you take in the details, another tap or click will minimize them, so you can continue reading.
Resume Reading
Enjoy your reading, take a breather, and then pick up right where you left off—even on a different PC or tablet. Word automatically bookmarks the last place you were reading.*
*Internet connection required; must be signed in with a Microsoft account or a Office 365 account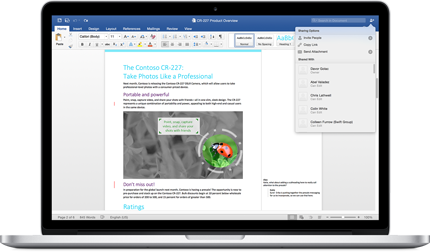 Polished docs
PDF Reflow
Here's a time-saver you'll really love: Open a PDF in Word, and enjoy editing content, such as paragraphs, lists and tables, as if you created it in Word.
Alignment Guides
Achieve that polished, professional look—align charts, photos, videos, and diagrams with your text. Handy alignment guides pop into place when you need them and disappear when you're done.
Live Layout
Experiment with layouts. When you drag a photo, video, or shape to a position, text reflows instantly—right before your eyes. Release the mouse button, and your object and surrounding text stay right where you want them.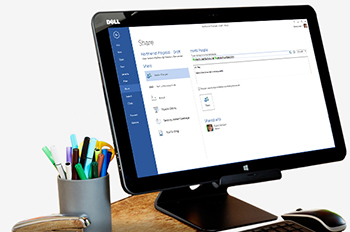 Work together
Reply Comment
Keep track of the conversation. Place and reply comments right next to the text you're discussing, so everyone can readily see who replied to whom, and when.
Simplified sharing
Relax. You can be sure that you're all tracking only the latest version, because your files are saved online on OneDrive or SharePoint by default.* Send everyone a single link to the same file, along with their viewing and editing permissions, right from within Word.
Present Online
Enjoy greater flexibility. Project your document to everyone in your working group, even if they don't have Word. Send them a link, and as you present the document on your screen, they can follow along in their browsers online.
*Internet connection required; must be signed in with a Microsoft account or a Office 365 account