Microsoft PowerPoint

Build the story, present with presence and inspire your audience
PowerPoint when and where you need it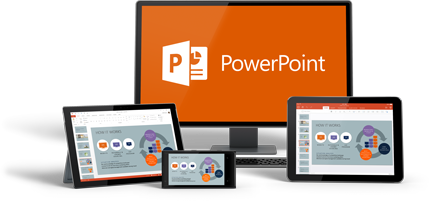 Install PowerPoint on your PC or Mac, on tablets and smartphones for when you're on the go, and use PowerPoint on the web with Office Online for everywhere in between.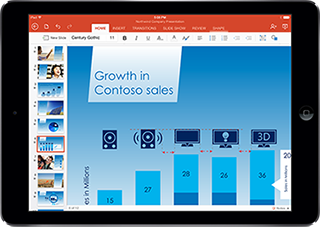 Present and Impress
Impress them with your presentation skills
Presenter View. Stay organized with new behind-the-scenes tools, so you can keep your presentation focused and your audience tuned in.
Slide Zoom. Direct your audience's attention right to your point. Zoom in on a diagram, chart, or graphic with a couple of clicks, and zoom out just as smoothly.
Slide Navigator. Quickly switch slides—in or out of sequence—from a visual grid viewable at a glance. While in Presenter View, your audience sees only the slide you've selected.
Auto-extend. When you project your presentation to a second screen, your slides and Presenter View automatically appear on the correct screens. No fumbling with equipment.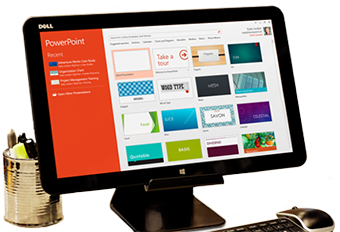 Design your story
Design unique and compelling slides and presentations
Start Screen. Jump-start your creative process by browsing the new wide-screen themes displayed when PowerPoint opens.
Theme Variants. Give your design the look you want. Apply design variations with a click.
Alignment Guides. Add a designer's touch. Intuitively align shapes, text boxes, videos on your slides.
Merge Shapes. Create your own shapes and customized icons with the Union, Combine, Fragment, Intersect, and Subtract tools.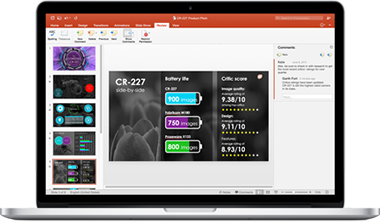 Work together
Work together to make your presentation shine
Simplified Sharing. Share work with confidence. Your presentations are saved online on OneDrive or SharePoint by default.* Send everyone a link to the file, along with their viewing and editing permissions, and they'll see the latest version.
Reply Comment. Keep track of the conversation. Place and reply comments right next to the slide area you're discussing, so everyone can readily see who replied to whom, and when.
PowerPoint Online* Coauthoring. Work with your team on the same presentation at the same time, whether you're using PowerPoint on your desktop or PowerPoint Online.
*Internet connection required; must be signed in with a Microsoft account or an Office 365 account.