Microsoft Office 365 Enterprise

Great teams are built on great communication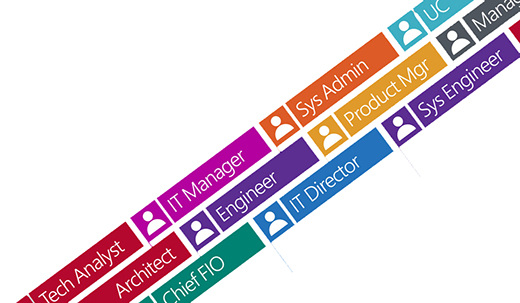 ---
Office365 Enterprise Products:
Features:
| | Office E1 | Office E3 | Office E5 |
| --- | --- | --- | --- |
| Email and Calendar | Included | Included | Included |
| Teams – IM, Voice, Video Chat | Included | Included | Included |
| Yammer, Video, Sharepoint | Included | Included | Included |
| OneDrive for Business, Delve | Included | Included | Included |
| Microsoft Office Apps Online | Included | Included | Included |
| Office Client/Desktop Apps | | Included | Included |
| Power BI Pro License | | | Included |
| Skype Integrations with Telephone System | | | Included |
| Security & Backup Features | Exchange Online Protection, Archive | + Data Loss Prevention, Rights Management, eDiscovery | + Advanced Threat Protection, Customer Lockbox |
Office365 E1
O365 E1 is the "lightest" version of the Enterprise level plans. The application and services included in E1 are: Email and Calendars via Microsoft Exchange, Enterprise Social with Yammer, communication and team sites with SharePoint, OneDrive for Business with 1TB cloud storage, Delve for content discovery, StaffHub and Planner to manage daily staff tasks, MS Stream, as well as Teams (which has adopted components and functions of Skype for Business). Within the E1 license you also receive web versions of Office applications including Word, Excel, PowerPoint, Outlook, OneNote, and Publisher.
Office365 E3
Though this plan is slightly more expensive than the E1 tier, the added features justify the investment. Within the O365 E3 plan, each user gets the full license and is allowed to install the applications on up to 5 desktops, 5 tablets, AND 5 smartphones. This means you can work anytime from anywhere without hindering workflow and instead become more efficient. The E3 plan includes everything mentioned in the E1 licenses along with some extras:
MS Office Suite: Users will always receive the most updated versions of Word, Excel, PowerPoint, OneNote, Outlook, OneDrive for Business, Teams, Access, and Publisher.
Cross-Platform Installation: Users now have the benefit of installing Office applications across devices (Windows, Mac, Android, tablets, smartphones).
Cloud Storage: O365 E1 comes with 1TB of cloud storage for OneDrive for Business (which is more than enough in most cases). However, with O365 E3, you get 1TB by default and the ability to increase it to 5TB and even 25TB if needed.
Data Loss Prevention (DLP): DLP allows you to comply with business standards and industry regulations in terms of protecting sensitive information and preventing data leaks outside of the organization. DLP is not available in E1.
Office365 E5
O365 E5 is the super-powered version of Office and is available for a small increase in cost. In my opinion, the main addition to the E5 license is the fully loaded security features and some analytic tools and voice capabilities. You get everything included in E3 along with a few more benefits:
Advanced Security & Information Protection: The E5 license takes measures to protect your data from threats like phishing and zero-day malware. In this way, users of E5 stay protected from threats in attachments and links. DLP assures the safety of your content.
Analytics Tools: This is the only Enterprise plan that offers analytics tools such as MyAnalytics and PowerBI Pro for data analysis and visualization.
Comparison:
Office365 E1
Office365 E3
Office365 E5
Description:
Business services—email, file storage and sharing, Office Online, meetings and IM, and more. Office applications not included.
All the features of ProPlus and Office 365 E1 plus security and compliance tools, such as legal hold, data loss prevention, and more.
All the features of Office 365 E3 plus advanced security, analytics, and voice capabilities.
Office Applications Included:
Not Included
Services Included:
Overview:

Email hosting with 50 GB mailbox and custom email domain address
Web versions of Outlook, Word, Excel, and PowerPoint (desktop versions of applications not included)
File storage and sharing with 1 TB OneDrive storage
Inform and engage with communication sites and team sites throughout your intranet using SharePoint
Host unlimited HD video conferencing meetings with up to 250 people

For HD calling, compatible HD hardware and broadband connection with at least 4 Mbps required.

Host meetings for up to 10,000 people with Skype Meeting Broadcast or Microsoft Teams live events.

Starting October 1, 2018, new Office 365 customers with fewer than 500 seats will be onboarded to Microsoft Teams and will not have access to Skype for Business Online. Tenants that are already using Skype for Business Online will be able to continue doing so (including provisioning new users) until they complete their transition to Microsoft Teams.

Get a hub for teamwork with Microsoft Teams
Collaborate across departments and locations with Yammer
Use intelligent video to create, manage and share live and on-demand content across your organization
Search and discovery with Delve
Plan schedules and daily tasks with Microsoft Teams
Manage tasks and teamwork with Microsoft Planner
Maximum number of users: unlimited
FastTrack deployment support with purchase of 150+ seats at no extra cost
24/7 phone and web support

Email hosting with 100 GB mailbox and custom email domain address
Desktop versions of Office applications: Outlook, Word, Excel, PowerPoint, plus Access and Publisher for PC only

Customers with an active subscription will be entitled to the newest versions when available.

OneNote: Access to additional OneNote features
Web versions of Outlook, Word, Excel, and PowerPoint
One license covers 5 phones, 5 tablets, and 5 PCs or Macs per user

Compatible with Windows 7 or later. See for full compatibility information and feature requirements.

Unlimited personal cloud storage

Unlimited personal cloud storage for qualifying plans for subscriptions of five or more users, otherwise 1 TB/user. Microsoft will initially provide 1 TB/user of OneDrive for Business storage, which admins can increase to 5 TB/user. Request additional storage by contacting Microsoft support. Storage up to 25 TB/user is provisioned in OneDrive for Business. Beyond 25 TB, storage is provisioned as 25 TB SharePoint team sites to individual users.

Inform and engage with communication sites and team sites throughout your intranet using SharePoint
Host online and video conferencing meetings for up to 250 people

For HD calling, compatible HD hardware and broadband connection with at least 4 Mbps required.

Host meetings for up to 10,000 people with Skype Meeting Broadcast or Microsoft Teams live events

Starting October 1, 2018, new Office 365 customers with fewer than 500 seats will be onboarded to Microsoft Teams and will not have access to Skype for Business Online. Tenants that are already using Skype for Business Online will be able to continue doing so (including provisioning new users) until they complete their transition to Microsoft Teams.

Get a hub for teamwork with Microsoft Teams
Collaborate across departments and locations with Yammer
Use intelligent video to create, manage and share live and on-demand content across your organization
eDiscovery with in-place search, hold, and export
Plan schedules and daily tasks with Microsoft Teams
Manage tasks and teamwork with Microsoft Planner
Manual retention and deletion policies and manual classifications
Maximum number of users: unlimited
FastTrack deployment support with purchase of 150+ seats at no extra cost
24/7 phone and web support

Email hosting with 100 GB mailbox and custom email domain address
Desktop versions of Office applications: Outlook, Word, Excel, PowerPoint, plus Access and Publisher for PC only

Customers with an active subscription will be entitled to the newest versions when available.

OneNote: Access to additional OneNote features
Web versions of Outlook, Word, Excel, and PowerPoint
One license covers 5 phones, 5 tablets, and 5 PCs or Macs per user

Compatible with Windows 7 or later.

Unlimited personal cloud storage

Unlimited personal cloud storage for qualifying plans for subscriptions of five or more users, otherwise 1 TB/user. Microsoft will initially provide 1 TB/user of OneDrive for Business storage, which admins can increase to 5 TB/user. Request additional storage by contacting Microsoft support. Storage up to 25 TB/user is provisioned in OneDrive for Business. Beyond 25 TB, storage is provisioned as 25 TB SharePoint team sites to individual users.

Inform and engage with communication sites and team sites throughout your intranet using SharePoint
Host online and video conferencing meetings for up to 250 people

For HD calling, compatible HD hardware and broadband connection with at least 4 Mbps required.

Host meetings for up to 10,000 people with Skype Meeting Broadcast or Microsoft Teams live events.

Starting October 1, 2018, new Office 365 customers with fewer than 500 seats will be onboarded to Microsoft Teams and will not have access to Skype for Business Online. Tenants that are already using Skype for Business Online will be able to continue doing so (including provisioning new users) until they complete their transition to Microsoft Teams.

Get a hub for teamwork with Microsoft Teams
Collaborate across departments and locations with Yammer
Use intelligent video to create, manage and share live and on-demand content across your organization
Advanced eDiscovery with in-place search, hold, export, and analytics
Plan schedules and daily tasks with Microsoft Teams
Manage tasks and teamwork with Microsoft Planner
Manual retention and deletion policies and manual classifications
Protect against sophisticated threats like phishing and zero-day malware with Office 365 Advanced Threat Protection
Control how support accesses your mailbox with Customer Lockbox
Auto classification, smart import, and more with Advanced Data Governance
Assess risk and gain insight into potential threats with Office 365 Cloud App Security
Advanced personal and organizational analytics with MyAnalytics and Power BI Pro
Make, receive, and transfer calls across a wide range of devices with Phone System
Make domestic or international calls from current or new phone numbers with add-on Calling Plan Available for purchase as an add-on for

{DomIntCall|price}

$24.00

user/month. Price includes both international and domestic calling plans. Domestic-only calling plans are available for

{DomCall|price}

$12.00

.
Create meetings with a dial-in number that attendees can join by telephone with Audio Conferencing
Maximum number of users: unlimited
FastTrack deployment support with purchase of 150+ seats at no extra cost
24/7 phone and web support
Contact Us for more information: