Microsoft Office for Mac 2011

Work the way you want, where you want.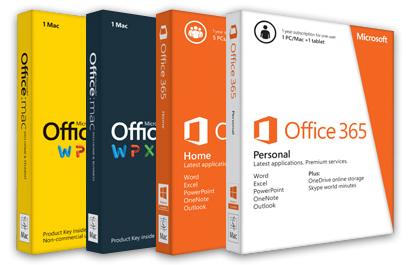 Overview: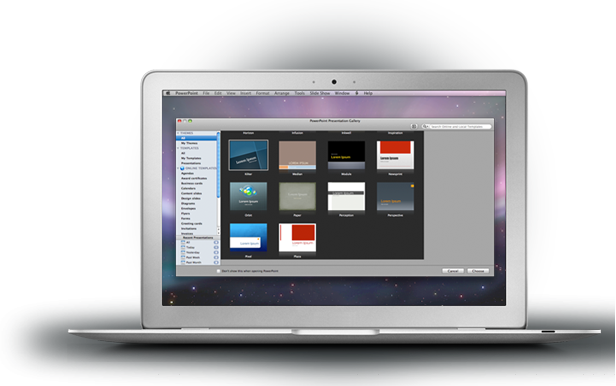 Work the way you want, where you want.
Used on more than 1 billion Macs and PCs worldwide, Microsoft Office is the most-trusted productivity suite, and it helps you do even more with your Mac, your way.
Outlook Integration
Stay in sync while you stay in touch.
Microsoft Outlook for Mac is the all-in-one application for e-mail, calendars, contacts, and tasks. Collapse multiple e-mail threads into one quick view. See all your inboxes in a single view. And manage your workload from virtually anywhere.
Office Online
Work online, from virtually anywhere.
Windows Live OneDrive lets you store and edit your documents and presentations online, for free. Then, use Office Online to access your documents from almost any computer. Just use your Web browser* to sign in to OneDrive.com, and go to work. Now you can be productive wherever life takes you.
Coauthoring
Collaborate with virtually anyone.
Coauthor documents in real time or add audio and video to chats—Office for Mac 2011 gives you better ways to work together. And it's compatible with Office for Windows, so you can share with almost anyone.
Ribbon
Perform common tasks—fast.
The Office for Mac ribbon and toolbar put commonly used commands at your fingertips. Discover advanced options that automatically change to match the application and function you're in. Office for Mac even has the same menu interface of most Mac applications, so you can find what you need easily.
Template Gallery
Look more professional with every document.
With the new Template Gallery in Office for Mac, it's easy to produce great-looking, consistent documents. Templates appear in a large format that allows you to see layouts, graphics, and fonts at a glance. You can even edit right in the Gallery to quickly create families of customized documents.
Photo Editing
Easily edit and correct photos in just a few clicks.
Office for Mac 2011 gives you a full suite of media editing options, including in-document photo finishing, color-corrections, background removal, and more.
Focus View
Stay focused on the big picture.
Minimize distractions while working in a reading or authoring mode. Focus easily on the task as hand by blocking out all other windows and menus on your screen.
Broadcast Slide Show
Share with anyone, anywhere.
PowerPoint for Mac 2011 gives you the ability to present to multiple people remotely, improving communication and reducing travel costs. Broadcast your presentation to anyone on the Web from anywhere, with minimal startup time and no special software required.
Sparklines
Spot trends in your data.
In Excel for Mac 2011, Sparklines give you the ability to create small charts in a single cell. That way, you see the data in the smallest details—while never losing sight of the big picture.
Visual Basic
Get automated.
Increase efficiency and save time by automating repetitive tasks in Word, PowerPoint, and Excel. New features include IntelliSense, which uses auto-completion for the symbol names the programmer is typing. Get your documents coded and out the door faster.
Reorder Objects
Manage layers easily.
Reorder layers of text, photos, and graphics quickly. Create richer documents than ever, and rearrange them without cumbersome copying and pasting. Easily manipulate the layering of all shapes on any page.

* Office Online require SharePoint Foundation 2010 for business use or a free Windows Live ID for personal use, as well as an appropriate device, an Internet connection, and a supported Web browser. Supported browsers include Internet Explorer 7 or later for Windows, Safari 4 or later for Mac, and Firefox 3.5 or later for Windows, Mac, or Linux. There are some differences between the features of Office Online and the Office 2011 programs.

Note: iMovie, iPhoto, iTunes, and Safari are trademarks of Apple Inc., registered in the U.S. and other countries. All other trademarks are property of their respective owners.
Features:
Set your ideas free. Create professional documents and presentations with the most-used productivity software for the Mac. And since Office for Mac 2011 is compatible with Office for Windows, you can work on documents with virtually anyone, anywhere.
"Microsoft's new Mac Office is by far the best Mac version of the suite I've used." - Walt Mossberg, The Wall Street Journal
Specifications:
Which one is right for you?
Office gives you the freedom to get work done virtually anytime, anywhere, and on any device.

Choose your Office

Office 365 Personal
(1 Mac or PC, plus 1 tablet)
Office 365 Home
(5 Macs or PCs1, plus 5 tablets2)
Office for Mac Home & Student
Office for Mac Home & Business
Save documents on your Mac
Word, Excel, PowerPoint, OneNote3
Outlook emails, calendars and tasks
Access and Publisher for PCs only
Installations available

1 PC or Mac

5 PCs or Macs

1 Mac

1 Mac
60 Skype world minutes of calling per month
15 GB of free online storage

1 TB extra storage for 1 user

1 TB extra storage each for up to 5 users4
Always up to date
Stay in touch on the go with Windows tablets, and iPads

1 tablet

5 tablets
Easy access on Android phones, iPhones®, and Windows Phones
Microsoft technical support via chat or phone at no extra charge for active subscribers

1. Current Office application versions for Office 365 are Office 2013 for Windows and Office 2011 for Mac. Customers with an active subscription will be entitled to the newest versions when available.
2. For information about supported devices, visit www.Office.com/information
3. OneNote for Mac is available as a separate download from the Mac App Store.
4. You can share your subscription benefits with up to four members of your household. Each person you share your subscription with gets their own additional 1 TB OneDrive storage, plus PC/Mac and mobile installs against available ones.