Microsoft Office Online for Mac

Extend your Office experience to the Web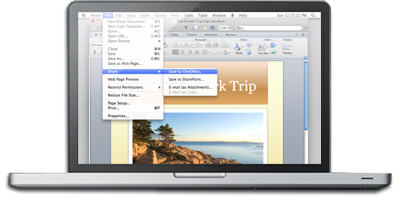 OneDrive lets you store and edit your Word, Excel, and PowerPoint documents and presentations online, for free. Then, use Office Online to access your documents from almost any computer. Just use your Web browser 1 to sign in to OneDrive.com, and go to work. Now you can be productive wherever life takes you.

Always have the tools you need
Away from your Mac when an idea hits? Need to make last-minute edits on the go? When you store your Word, Excel, and PowerPoint files online, Office Online enables you to make updates from virtually any computer with an Internet connection. You can also access and view your files from your mobile device.2

Work better together
Office Online make it easy to collaborate with everyone on your team, regardless of what version of Microsoft Office they use—and whether they work on a PC or a Mac.
Get started right away
You don't have to spend time learning new programs. Office Online have a familiar Office interface and include some of the same tools you already use. And when you need to access additional features, it takes just one click to open the file in the corresponding Microsoft Office program on your desktop.3

1. Office Online require SharePoint Foundation 2010 for business use or a free Windows Live ID for personal use, as well as an appropriate device, an Internet connection, and a supported Web browser. Supported browsers include Internet Explorer 7 or later for Windows, Safari 4 or later for Mac, and Firefox 3.5 or later for Windows, Mac, or Linux. There are some differences between the features of Office Online and the Office 2010 programs.

2. Word, Excel, and PowerPoint files can be viewed using Office Online on many devices. Supported mobile viewers for Office Online on SharePoint 2010 include Internet Explorer on Windows Mobile 5/6/6.1/6.5; Safari 4 on iPhone 3G and 3GS; BlackBerry 4.x and later; Nokia S60; NetFront 3.4, 3.5, and later; Opera Mobile 8.65 and later; and Openwave 6.2, 7.0 and later. Supported mobile viewers for Office Online on Windows Live include Safari 4 on iPhone 3G and 3GS, and Internet Explorer 7 on the upcoming Windows Phone 7. Viewing Excel files via a mobile browser is currently only available with Office Online on SharePoint 2010.

3. The ability to open your file in the desktop application directly from Office Online is available on computers running a supported browser along with Office for Mac 2011.

Note: iMovie, iPhoto, iTunes, and Safari are trademarks of Apple Inc., registered in the U.S. and other countries. All other trademarks are property of their respective owners.